Eye Of The Storm
Finally managed to squeeze in some time to fill up my blog. If you'd noticed lately, I normally update my blog every 10 days. But, I think now that I can find time to share more stories and topic with you, I would update em' every Monday on every week. Busy flying lately as usual but yesterday's flight was a little bit special. It was a daily flight. Very rare now days with current pattern. Quite miss is sometimes. Anyways, this particular pattern is interestingly challenging as it consist of 6 sectors, all no longer than 40 minutes with a standard 20-30 minutes turnaround (and some people say
X
airlines can't do 20 minutes turnaround... hehe). Sure does drain you out once your done.
Malaysia's Budget 2006 was released by the Prime Minister last week. Most people weren't expecting any major changes and nothing big eventually came out of it. Didnt affect aviation much either. However, it seems like a good one for the country economy, which will hopefully help the country maintain its growth in current times, in turn help other industries such as aviation.
Typhoon season is almost over, thank God! It must be pretty challenging to fly into affected areas such as Taiwan or Hong Kong (all the 737, Airbus & 777 boys, you know w
ho you are!). That's why we're paid so high (if you're still wondering!). Its not easy making quick decisions in a
pressured environment especially with people's life at stake, even though when passenger might not have the same view. My experience with this type of weather only went as fas as the tail of the typhoon. Never the less, we do get plenty of em, and they sure can stir up a storm. Facing a strong storm crosswind especially when coming in to land can be quite challenging. We really got to work our feets and hands off and can get a bit hairy at times. Then comes the landing part. That's also tricky especially when you've got a whole lot of terrified passengers eager for a smooth landing. For your information, we normally don't carry out smooth landings unless the weather is fine and to most pilots, a smooth landing is just a bonus. But for the passengers, a smooth landing normally means a good landing done by the Captain, where as a roller-coaster landing would mark the Co-pilot as the executor, even though it could be other wise. During a storm with a wet and slippery runway, smooth landing is an even bigger no-no as this could easily caused the aircraft to skid off the runway, much like locking the brakes on your ABS-less car while dr
iving on a slippery road. Sometimes I just wonder why passengers are so eager for a smooth landing. I wonder if they have the same level of enthusiasm locking their brakes on a slippery road going straight for the back of another car.
The other special thing about yesterdays flight was the amazing photo opportunities available flying during that time of the day with good weather all the way and a low cruising level. All good ingredients to a great photo ops mission. Flying past Brunei on the way from Miri to Labuan brought just abeam Empire Hotel. It is one of the few luxury hotels in this region with room rates of about RM1000-2000 per night, and yes, thats the cheapest room! Initial we taught it was the Sultan's mansion, which would not be of a surprise to us. But upon proper inspection, it was not. It has a beach and a golf course like any other resort and you could see alot of activities going on around the beach.
Just coming into Labuan, I managed to get a shot of the island with the airfield on the background the the town in the foreground right next to the bay.
Labuan, an island just off the South western tip of Sabah, is a Malaysian Federal Territory and it has also been label as a Financial Centre, something like Caymen Islands. (I wonder if any criminals hold accounts here, just like you see in the movies...) Anyways, if you're wondering why the airfield is pretty big, its because thats one of the Royal Malaysian Air Forces (RMAF) Base. It houses the C-130 and S61 Sikorsky 'Nuri' Squadrons and also regular training exercise. About 2 months ago, a Hawk 200 crashed just south of Runway 14, missing the runway by a couple hundred metres. Normally, this is the most famous alternate airfield for aircrafts diverting from Kota Kinabalu or Brunei. Its 20-30 minutes away and has good facilities (especially Duty Free!) I remembered having to divert to Labuan when Kinabalu was covered in thunderstorm for almost 3-4 hours. It was horrible and we had 6 aircrafts (three F50 and B737 each) in Labuan completely jamming up the apron. We we're the last one in and they even hesitated to take us in in the first place. You could normally get crosswinds gusting up to 20-25 knots here in the afternoon. Crunch time all the time!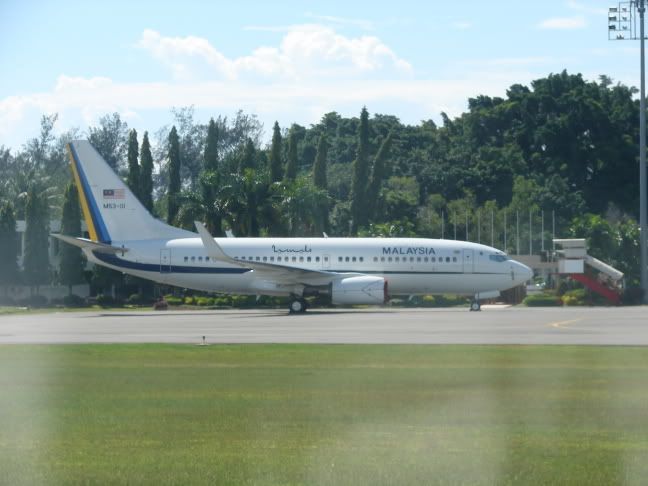 The Deputy Prime Minister was in Kinabalu yesterday. He came in with the RMAF 737 Boeing Business Jet. Nice looking thing, it was ex-Malaysia Airlines bought by the outstead MD, Tajuddin Ramli. It was one of the first in the region when it was first purchased. Pity we can't get a look inside. Rumoured to be kitted up quite well with a master stateroom at the end of the aircraft complete with shower. The cockpit too is a little different than most of the 737 in the region as it is actually a 737NG. The best part of the aircraft is the winglets. I love em. Makes it look
macho
.
Something came up when I was trying to complete my blog the day before yesterday. Bali was Bombed again!! Its such a sad and terrible incident which should never have happened. Killing of innocent people is the sickess thing anyone could do and certainly NO religion on the face of this earth condones to killing of innocent people, even Islam. I remembered during cruise talk with one of my captains, he, a muslim, was sad and angry because all these killings and terror done under the pretext of Jihad and Islam. He even said, "... even the worst religion in the world does not support the killing of innocent people!", which I agree without any reservation. Ultimately I really hope this will end soon. It is useless and will not portrait any message to anyone, but only more anger and hate to the wrong community of people.
My Condolences to all families and friends who have lost their loved ones in this unruly and sickening act of terror
.
(p.s.- a big thanx goes out to my sole commentor for my last posting. without people like you, avaition is just another word. and to answer your question, NO, this rumour has been going on for 5 year or more now and frankly it will never happen, anytime soon that is. thanx again!)